Just after 7 a.m., mountains begin piercing through the clouds. More and more jagged peaks become visible, and soon we are descending, almost scraping the ridges of the highest mountains on earth. Tibet's barren and majestic landscape is in full view and I am emotional at my arrival in this place that I have dreamed of coming to for so long. My journal contains a newspaper clipping that has been posted on my fridge or bulletin board since March of 1999. It reads 'Heaven and Earth Meet in Lhasa'
Earlier on October 1st, 2004 at 4:15 a.m., the 3:45 a.m. wake-up call for room 2733 rings at Sam's Guesthouse. A very quick shower, and I'm loading my gear, including the new bike, downstairs for transport to Chengdu International Airport. Pierre and Sonia from Montreal, are surprised to see me, as I thought my flight was in the afternoon. There is not enough room in the jeep for three bicycles, luggage and 5 passengers, so a taxi is summoned, and three of us take that to the airport.
Checking in seems to be going well. Then, I'm asked to bring my bike to counter one, then to the x-ray machine. It won't fit. Then it's back to counter one to fill out a form, then to counter 15 to pay 230 yuan over some half-hearted protests, then back to counter 22 to get it tagged, then back to counter one to hand over the bike. Eventually, we are airborne at 6:30 a.m.
On arrival at 3600 meters, I am immediately feeling the effects of the altitude. It is difficult to breathe and inflating my tires is an effort. I feel a mild headache coming on as we load our bikes on the bus for the 100 km trip to Lhasa City.
On arrival at the bus depot, we charter a rickshaw and pedicart to transfer the gear, Pierre and Sonia to the Kirey Hotel. I ride shotgun, pointing the way.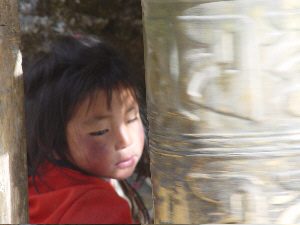 After purchasing some water I slept for three hours while Pierre and Sonia check out the Barkhor Quarter of town. I'm still a little light headed when I get up – the feeling being a little like too much nitrous oxide from the dentist. Of course, I know the dangers and consequences of Acute Mountain Sickness or Altitude Sickness can be much more severe, so I'm taking it easy. Later we have a pleasant supper at the Shangri-La restaurant of the hotel.
October 2nd: The name Lhasa means "The Gods Descending", and Tibetans refer to their country as "The Land of the Snows". I'm feeling better here in Snowland, so we embark on a short 22km ride to what was once one of Tibet's wealthiest and powerful monastries, Drepung Monastery. We somehow lose Pierre on the way there, but find him again when we were almost back at the bottom of the hill. The ride itself was relatively painless, although we were a little winded at the top. The admission was around $7 US, so we we just took a look around the exterior before going back to town. Enroute, I stop at the Potala, but there are no tickets left for that day.
October 3rd: I've decided to explore the Potala and Jokhang in Lhasa today, while Pierre and Sonia take a (very long) trip to Samye Monastery on a bus leaving at 6:00 a.m. At first, the Potala does not want to issue me a ticket, but after also not being able to issue me a ticket for three days hence, and being 'only one' person, they tell me to 'hurry up' the 300 meter hill to the entrance, leaving some perplexed foreigners at the ticket counter. Making my way past the prayer stones to the entrance of the Mighty Potala, I purchase my 100 Yuan ($18 CDN)entrance ticket.
The Potala is the former home of the Dalai Lama, and contains thousands of statues. It's considered one of the most important and sacred places in Tibet, containing two major palaces, the red and white. I won't go into detail about all of the many manadalas, statues, rooms, tombs, chapels, thrones, and residences, but they are interesting, and worth seeing. From the roof, there are panoramic views of the valley, and tourists taking pictures which are forbidden from other areas in the palace.
I also managed to do some ill conceived souvenir shopping, as well as picking up some prayer flags to fly on the upcoming passes. Later, Pierre and Sonia return with tales of adventure, and we share some laughs over dinner at a newly discovered Tibetan restaurant.
October 4th: Today is the first big fully loaded test ride with gear. We will eat breakfast, leave only a few things in left luggage, and then test our mettle by climbing to 4200 m with most of the climb coming at the end of the 60 km ride(that distance includes leaving Lhasa).
We make one wrong turn heading out of town, but discover our mistake within one kilometer. Soon, we are passing the Chinese Military Guards on the bridge out of Lhasa on our way to Ganden Monastery, north-east of Lhasa. Greetings of "hello" and "Tashi Deleh" are soon being called back and forth as we make our way down the well paved highway that eventually hugs the beautiful Kyi Chu turquoise river, nestled beneath the amazing Tibetan landscape. We stop for some noodle soup, and again at a suspension bridge festooned with prayer flags. Travelling at a comfortable 20 km/hour, we soon reach the bottom of the hill that leads to the monastery. Another 9 km and 500 m to climb up a dusty winding road with countless switchbacks and…and we'll be there.
Yaks graze along the roadside, children stop us wanting to say hello or see if there might be some candy in our pockets, clouds of dust sweep across the road as vehicles pass up and down, and air intake becomes increasingly difficult. On a couple of occaisions, I find myself veering towards the edge of the road where a merciless drop-off waits, unable to unclip my shoes from the pedals. Thankfully, I manage to stop or steer away in time.
After almost two and a half hours, with numerous stops to gather more oxygen in our lungs, we push our bikes for a small distance near the top before riding to the monastery guesthouse. It was exhausting to then load our gear up to the third floor, and our bikes up a stone stairway with steps four and five inches wide, but we did settle in, enjoying the serenity and magnificent views. I forced myself to eat a bowl of noodle soup before collapsing until morning.
October 5th: Apparently, I slept quite soundly through raging winds, hail, and thunder during the night. The snow covered mountains in the distance displayed the storm's efforts', as we watch busloads of pilgrims arrive to walk the Ganden Kora. A kora is a clockwise pilgrimage around a sacred holy place that includes numerous rituals such as : spinning prayer wheels, tieing prayer flags, prostrating oneself, burning incense, squeezing through narrow passageways, tieing a piece of one's hair to a string or rock, putting a noose around your neck and embracing death, rubbing rocks, sometimes with your backside, putting bits of earth or rock on wax or rocks, putting your fingers in small rock indentations, placing your string of beads through a hole in a cliff, lighting candles, and much more. We follow the Lower Kora around until it leads to the monastery, where monks are chanting and debating in the assembly hall. There are numerous chapels to wander through before having a quick lunch and loading up for the trip back to Lhasa.
Our 5.5 or 6 hour ride to the monastery became a 3 hour breeze back to Lhasa City, aided in part by a fantastic tailwind, that at one point erupted into a minor hailstorm. Our previous hotel, and more than a few others were full when we arrived, so we settled on sharing a triple room at the Banok Shol hotel. We figured it was a result of the National Day weeklong holiday coming to an end and the various domestic tourists having to make their way home again. We had a delightful meal at the Kailish Restaurant in the hotel. Pierre had Nepali Tali, Sonia had the Chicken Sizzler, and I had a hearty helping of Spaghetti Bolognese.
October 6th: Rest and errand day. While Pierre and Sonia visited the Potala, I did some errands, and in typical Chinese fashion, they took a lot longer than one might expect. First was the exchange of the bow and arrows that were going to be a huge hassle to ship (what was I thinking when I bought them? Was it altitude sickness?). Then there was the shipping of two parcels and three postcards (2.5 hours), and buying some US dollars at the bank (another 1.15 hours). I did locate some instant cereal packets at the supermarket for the trip, because one can only eat so much noodle soup on the road. I also found a water filter and having assessed my health, decided to postpone my own departure for Nam Tso for at least one more day.
October 7th: Pierre and Sonia leave for Nam Tso. I rest.
October 8th: I buy a bus ticket to take me partway to Nam Tso, and on my return to the hotel, see Pierre and Sonia's bikes in the left luggage. Turns out there was too much snow to get over the pass, so they've returned. We have dinner and plan to leave on the Friendship Highway after one more day.
October 9th: We make some adjustments to the bikes and repack for the journey ahead.
"This morning, the ladies at the hotel wrapped a white scarf around my neck for a safe journey by bicycle along the friendship highway to Mount Everest. I think it was a good omen, because tonight, I'm camped about 90 km outside of Lhasa at about 4100m, just below the roadway somewhere on the Kampa La. It's been a pretty good day for cycling – cool and clear, getting warmer later in the day."
In the morning, Pierre thought he had come down with some kind of virus, so he and Sonia stayed in Lhasa, hoping to leave in another day or so. A few days ago, they loaned me their Tibet Overland book to copy a few pages, and even though it is slightly out of date for this section, it has come in quite helpful today, with my on again/off again odometer acting up.
The first part of the road out of Lhasa is smooth as silk, until it starts up the pass. Then it's alternately serene or completely mad with roadwork activity. By 2006, it's going to be one of the most amazing mountain pass roads in China, but right now where it's under construction, there's a lot of people working, a lot of trucks, and a lot of dust. In between those construction sites, as a cyclist, you're the only one on the road as all other traffic is halted or being diverted.
The last village of the day had some irritating children aggressively begging for money or candy, grabbing at the bike and bags, threatening to throw rocks, etc., etc. They were also doing the 'repeat everything you say", game, so they quickly learned "F*** you!" and "I'm a nincompoop", courtesy of yours truly. Now with the sun gone behind the mountain, and the light starting to fade, it's almost solitude again. An army officer comes by and says hello. There's also a Tibetan fellow camped in a big tent a little farther down the mountain. I hear the sound of my pen on the page, my breath coming into my body, and the river rushing far below in the valley – and that's all no matter how hard I listen. There are no other sounds. Day one on the Friendship Highway comes to an end.
ROAD REPORT – Cycling Day 1
Distance: 90 kms (approx.)
Ride time: 6:00 hours (approx.)
Avg. speed: 15kph
Max kph: unknown
Passes: none
Sleeping place: Roadside camp 4100m approx.
Tibet Mileage to date: 327 km (includes local riding in Lhasa as well as overnight trip to Ganden Monastery)
Worldwide Mileage 2004: 7313 km
Comment Good day for cycling. Not too challenging. Considering all the sections under construction, the road was not too bad.
Tibetan Glossary:
La = Mountain Pass
Tso = Lake
October 11th, 2004
I wake up early camped on the west side of the mountain, so the temperature is quite cold. My thermos of hot water prepared the night before is not exactly hot, but lukewarm enough to make some instant walnut cereal I found in Lhasa, and warm enough to make a cup of instant coffee. The sun comes around at about 9:30 a.m. Beijing time (all of China is on Beijing time!), and after slopping on some sunscreen, I head for Kampa La. With the massive road building projects, the road markers mentioned in Tibet Overland are non-existent. In fact, the first one I see mentioned in the book, is marker #163 somewhere after the town of Nangartse Dzong later the next day.
The road is mostly smooth, with a few streams to ford, but my focus of the day is not to make the same mistakes I made climbing to Ganden Monastery. I stop a lot, drinking water, having a bite to eat, having lunch, taking some altitude medication, and filling my lungs with air.
It's almost three o'clock when I reach the pass – and what a view!!! Yamdrok Tso lies below, and is surrounded by snow-capped mountains. It's absolutely stunning! Four Tibetan women and a couple of Chinese soldiers cheer my arrival – as do I. Taking the white scarf given to me by the Banok Shol Hotel staff lady, I tie it to the array of scarves and flags flying from the top of the pass. The Tibetan women and I make some conversation and take some pictures, but after about a half hour, one of the Chinese soldiers indicates that I should move on, so I head down the mountain passing more and more roadwork.
At one point, a jeep passes me yelling "Go Canada!" Okay – I admit it. I have a very readable Canadian flag on the back of the bike, and those people in the jeep – well – they must be Canadian too. A little further down the road, they are pulled over at the side of the road and hail me over. I just about fall over stopping as I can't get my shoes unclipped. It turns out they are on a group tour with a Montreal company called Karavaners, and are waiting for the other jeeps and their guide who have been held up at a roadwork section.
Moving on, I begin looking for a camping spot for the night. With the new road, the suggested campsites listed in Tibet Overland are non-existent. It's a whole new world of Chinese infrastructure development on the Southern Friendship Highway – at least along this section. After bypassing a couple of potential sites, and with the sun fading, I backtrack a few kilometers to a lakeside location and make camp for the night. It turns out to be a less than ideal location.
Just after dark, I begin cooking dinner when a series of very loud rock blasting explosions begin from across the lake, echoing off the mountains and the water. These continue for several hours, but even worse is the steady shuttling back and forth of trucks and tractors on the nearby road. I don't sleep for several hours, and then not at all well.
ROAD REPORT – Cycling Day 2
Distance: 55 kms (approx.)
Ride time: 6:20 hours (approx.)
Avg. speed: 8.7 kph
Max kph: unknown
Passes: Kampa La 4700m
Sleeping place: Lakeside camp approx. 125 kms from central Lhasa at 4400m approx.
Tibet Mileage: 382 km
Worldwide Mileage: 7368 km
Comment Good day for cycling. Took my time on the pass stopping a lot for water, rest, and food. Several road sections with streams running across them, and several areas under construction required pushing through soft deep earth that was yet to be packed down. Other than that – pretty good road surfaces.
October 12th, 2004
It's chilly and I haven't slept that well, but at least my tent is on the sunny side of the hill this morning! I make a slow but good start at around 10:30. Fording streams, pushing through construction zones, dodging around massive machinery, riding through massive clouds of dust, and then nothing. The first part of road from somewhere past Tamalung Village is under heavy construction. Eventually I make it through Pede Dzong, grabbing some water, and then stopping in Nangartse Dzong for a late lunch. Nangartse Dzong has a large Chinese presence, which means lots of Chinese restaurants, shops, schools, and other businesses. Lunch is good, and I fill up on supplies before heading out on the road to Karo La.
Tibet Overland mentions headwinds, and they start as soon as I get to the entrance of the valley, where soldiers at a checkpoint gruffly confirm the direction of the pass. Today, I'm determined to get a nice, decent, sheltered campsite, and begin looking around 2:30 p.m. By four, I've decided to camp in a small gully by the river. It seems to be at about 4650m, and if the road markers were still here, it might correspond to marker 168, about 16 km outside of Nangartse Dzong.
Mountains surround the camp, and if I climb the gully, to the west I can see a small collection of buildings, or to the east, a small habitat for a Tibetan labourer who I meet while setting up camp. After dinner, a few nomadic dogs were wandering around, but they apparently had some other things to interest themselves in, and left me alone. This morning there were another four of them coming down the lake barking at me, but they became distracted by a Himalayan Mouse Hare. The nomadic dogs are notoriously vicious, but so far I haven't had to swing the iron gol I purchased in Lhasa, or throw any of the rocks stored in the pockets of my handlebar bag. Today, I also managed to wash up a bit in the river, just enough to get some of the dust off before donning some long underwear and bedding down for the night.
ROAD REPORT – Cycling Day 3
Distance: 42 kms (approx.)
Ride time: 4:00 hours (approx.)
Avg. speed: 10.5 kph
Max kph: unknown kph
Passes: none
Sleeping place: Riverside camp 4655m approx.
Tibet Mileage: 424 km
Worldwide Mileage: 7410 km
Comment: Rough road in construction zones, otherwise fine.

October 13th, 2004
Another chilly morning, this time at a completely idyllic campsite. After some bike and bag repairs, the local Tibetan labourer came down for a look to see how I was doing. We didn't say much, just smiled and shared some sentiments about the surrounding landscape. I motioned that I had to change and pack, so we said our goodbyes.
The Tibet Overland guide, which has some excellent graphs, warned me to expect chilly headwinds for most of the climb over Karo La. At about 10:30, I'm ready to go wearing the balaclava that my friend Stephane recommended I bring along when we were together in Paris. Again, I take my time going up, stopping for food and water as much as I feel like – and enjoying the scenery along the way. There are several glaciers within view on each side of the road, and today, there were very few jeeps and trucks again. Another nice break was the lack of villages (and the subsequent lack of beggars) along the way. It can get very tiring having to deal with so many people begging aggressively and running after the bike, so I have been quite happy with the quiet.
Carrying on up to the top of the pass, the winds became a bit harsher. Save for the prayer flags and scarves billowing in the wind, the top of this pass was empty of other people – just the flags, the bike, and me. I relaxed and had a snack before taking on the downhill. The downhill was sweet, ending in a vast valley with yak and sheep herds far off in the distance. I stopped in absolute solitude for lunch around 2:30 – no sound but the wind. Contemplating going all the way to Gyantse Dzong for a nice warm bed and a hot shower, I mounted the bike and headed through various small villages on my way to Simi La.
On the way up to the first peak of Simi La, I received word from some American tourists traveling by jeep, that Pierre and Sonia were spending the night indoors in Nangartse. Dale and Fritz (the Americans) invited me for dinner, so I gave them the name of my intended hotel and sped along by a slight tailwind, I reached Gyantse around 7:15. Unfortunately, my intended hotel did not have any running water, so dinner with Dale and Fritz never happened as I checked into the Jiang Zi Jian Zang Hotel just down the street. The room itself was a little cold, but the shower was nice and hot, and it had an added benefit of having a bathtub, plus a TV for 150 Yuan. Settling for some pasta in the hotel restaurant, I met the French-Canadians again, who were leaving the next morning for a trek.
ROAD REPORT – Cycling Day 4
Distance: 88 kms (approx.)
Ride time: 6:15 hours (approx.)
Avg. speed: 13.75 kph
Max kph: unknown kph
Passes: Karo La 4960m and Simi La 4275m (short double pass)
Sleeping place: Jiang Zi Jian Zang Hotel, Gyantse 3985m
Tibet Mileage: 512 km
Worldwide Mileage: 7498 km
Comment: A most amazing and beautiful valley after Karo La. Considering the passes, a relatively fast riding day, followed by a nice hot shower and a bath!
October 14th and 15th, 2004
It snowed here today – just some light flurries, but it did snow here in Gyantse Dzong, located a little more than 250 km from Lhasa. It's a one-horse town with an old fort and a monastery with a Kumbum supposedly containing 100,000 images of Buddha. There's an old Tibetan quarter, and a new Chinese section with big wide empty avenues lined with very non-descript ceramic tile and blue glass buildings. Most of the traffic, if you want to call it that, is the occasional donkey cart loaded up with barley, or a guy riding a horse down the street, but it is a good size town with lots of shops and services, so I decided to get some laundry done, catch up on some writing, and stay a couple of nights hoping that Pierre and Sonia would catch up. Unfortunately, after a couple of days, I was bored out of my mind, so decided to continue on to Shigatse, Tibet's second largest city.
ROAD REPORT – Rest Day 1 & 2
October 16th, 2004
There's not much to say about today's ride. It was not too eventful, other than a lunch stop in an unknown village where, while I had some meat momos in a small restaurant for 3 yuan, about 30 local village children on their way home from school, all lined up against the windows peering through the glass, hands around their eyes to shield the light. They stayed there for most of my lunch, until the owner shooed them away, only to be replaced the next group of children. Arriving in Shigatse, I had some trouble finding the hotel I was planning on staying in. Apparently, it doesn't exist anymore, so I checked into the Sandrutze hotel, which is a little up-market with those glass walled showers, but more importantly considering what was to happen, central heating!
ROAD REPORT – Cycling Day 5
Distance: 100.84 kms
Ride time: 5:25 hours (including 1 hr riding around trying to locate hotel)
Avg. speed: 18.89 kph
Max speed: 30 kph
Passes: none
Sleeping place: Sandrutze Hotel, Shigatse 3825m
Tibet Mileage: 612 km
Worldwide Mileage: 7598 km
Comment: Ultra Flat Road through a scenic valley.
October 17th to 21st, 2004
I spent my first full day in Shigatse visiting the Tashilunpo Monastery, which has had a lot of restoration work and is also the home of the Panchen Lama, who is second only to the Dalai Lama in the traditional order of Tibetan Buddhism. There are loads of shops in Shigatse and a Tibetan market, so they warranted a look as well. Unfortunately, I think I also ate something bad somewhere, so I wasn't feeling so well that evening.
The next day, I arranged my Tibetan Alien travel permit with the PSB or Public Security Bureau at a cost of 300 yuan or approx. $60 Cdn. It took about ten minutes and seemed relatively painless, much like my dealings with the Chinese embassy in The Hague where I received my visa. I looked around the town a little bit more, and later in the day, Pierre and Sonia from Canada knocked on the door inviting me to dinner with some other cyclists they had met. Chu from Singapore, had convinced a guy from South Korea to join him, and another guy from Japan was staying at the Tenzin hotel with them. We ended up going for a nice Chinese meal at a local/tourist restaurant. I say tourist, because they did have an English menu that had prices just marginally higher than the Chinese menu, saying it's because they serve a leaner quality of meat to the foreigners. We're not sure if they also serve leaner vegetables, as those prices are apparently also a little higher. Anyway, after dinner I went back to the hotel and now whatever kind of poisoning I had kicked in big time. The next thirty-six hours were spent in gut wrenching agony, with excruciating stomach pains as well as the accompanying dysentery. It was a day or so later that Pierre and Sonia came by and convinced me to take some Imodium and start a course of Ciproflaxin antibiotics. They're both doctors, so I went along with their advice, even though I hadn't had it for more than three days – my usual marker for starting treatment other than rehydration salts, rest, and water. I did start to feel better the next day, and still better the next day, but not well enough to start cycling again, so Pierre, Sonya, Chu, the Korean and the Japanese guy all started off from Shigatse a day ahead of me. During those days, I managed to pick up some more altitude medicine, and while doing so, had the opportunity to visit a couple of hospitals in Shigatse. These weren't the first ones I had visited in Tibet, as my hunt for altitude medicine had also taken me to the main hospital in Lhasa. If you are seriously sick in Tibet, here's my prayer "GOD HELP YOU!" and here's my advice: "GET THE HELL OUT!!!" Get to Nepal, India, Beijing, or Bangkok, because you won't get any help in Tibet. The pharmacists can't even do simple math, the doctors can barely understand how to use a stethoscope, there's no heat, and that brings me back to my earlier point about my hotel. Being sick, I was far better off to be in my nice three-star hotel with central heating, even if it was right next to a construction site that stopped work between the hours of 2:30 a.m. and 5:00 a.m., than I would have been to have been lying in a freezing cold hospital bed with completely incompetent staff that would probably have ignored me and absolutely filthy toilets.
I also had the chance to visit Shigatse's first department store in my search to stock up on some more peanut butter, and it reminded me that sometimes I forget my modern world. I forget that I am a modern child, raised with elevators, automatic ticket readers, supermarket scanners, bar codes, anti-theft clothing tags, metal detectors, and x-ray machines. In the modern world where I've lived for so many years, I take it for granted that everyone is in a hurry and has a busy life, and I believe that everything is or should be possible.
(Above photo of Sonia by Pierre Deslandes)
Sometimes on purpose, and sometimes not, I forget like I did today, that some things are just not possible, and that there are still some far flung places where people at the age of an adult, are discovering, and afraid of getting on something like an escalator. When I saw this happening today, I thought I should have taken a picture because it was funny to see, forgetting that my parents held me by the hand as a young child my first time getting on and probably many more times. It was probably kind of funny to see as well, but I don't think anyone took a picture.
In the department store, it's obvious that in the town of Shigatse, word has gone out about the escalator, so locals and visiting Tibetans from the surrounding villages have come to try out this remarkable invention. Crowds of them arrive and head straight for the escalator, milling around the bottom. After I had done my shopping upstairs, I was coming down the escalator and I saw a woman at the top afraid to grab the handle or step boldly forward. I thought I should run back up the escalator going down, reach out my hand and help her out, but it was too late. I had already passed her by. I thought I should at least stop and watch this phenomenon for it's (hopefully) successful conclusion, but it was too late. I had already satisfied my consumer desire for peanut butter to go with my road-snack crackers, so I bustled away out the door, past the SUV's in the parking lot, past the bicycle rickshaw drivers on the street, and past the farmers bringing their potatoes to market on foot. I don't wonder if I should have taken a picture, but I still wonder if that woman made it on to the escalator successfully. I hope so. I really do.
Earlier in the day, I had visited the post office here to send a parcel home. It's a big post office offering banking services, parcel wrapping, philatelic collector sales, and the usual array of post office services – or so it would seem. My parcel contained some CD's of trip photos, a mini-DV tape of trip video and a couple of souvenirs from Tibet. Translated from the Chinese, the encounter as I walked up to the counter went something like this:
The clerk took one look at me and said:
"No".
"Excuse me?"
"No. Go to Lhasa".
"Excuse me. I just want to send this parcel to Canada".
"No. Go to Lhasa".
"Lhasa is seven hours away, and seven hours to come back."
"Go to Lhasa."
"Really? Go to Lhasa?"
"Go to Lhasa".
"Is there a manager?"
"Go to the third floor".
I go to the third floor and it's the same story. They call someone on the phone and hand it to me. The person on the other end speaks English.
"What is your problem?"
"I want to send a parcel to Canada."
"You have to go to Lhasa".
"Lhasa is seven hours away, which means I will have to take one day to go there, one day to stay there and send the parcel, and one day to come back."
"You have to go to Lhasa."
"But don't you have trucks that go to Lhasa with mail from here?"
"Yes."
"So, why can't I send my parcel from here? This is a main post office and a major town that has traffic lights and even local buses."
'What do you want to send?"
"Some CD-ROMs, some souvenirs, and a mini-DV of my trip video."
"You have to go to Lhasa".
"Why?"
"It's Tibet."
End of story. So much for the modern world.
ROAD REPORT – Rest and Recovery Days 3 – 7
October 22nd, 2004
Other than another noisy night at the Sandrutse Hotel with construction work going on at all hours, the day started off well. It was just after noon when I was really ready to go, and not until one o'clock that I was making some progress from the outskirts of town. I'd been warned that it was a dirt road, so I had my dust mask ready, wearing it so I could easily pull it up over my mouth and nose when necessary.
For the first hour or so, the road wound itself along the valley, and the surface seemed pretty good. Then the headwinds began to build. They kept building until there was a wall of dust blowing across the south side of the valley. My pace was slowing as I watched little tornadoes of dust blow around in the distance. Occasionally they would cross the roadway in front of me.
A positive fringe benefit of the wind, was that it would almost immediately clear the dust clouds from passing vehicles as they went by me. Unfortunately, the good couldn't outweigh the negative impacts, and things just got worse. Huge gusts of wind began blowing and swirling around, bringing masses of dust that completely obscured the road. At times, I felt like I was in a massive sandblaster that pelted the exposed skin on my legs with tiny pebbles. There was nothing to do but stop, close my eyes, pull tight the dust mask, and suffer through until the air cleared again.
Eventually, the winds died down a little, but only a little. They were still strong and the going was not much fun (unlike the day the author of Tibet Overland rode this route and describing it as "a very pleasant ride"). Did I mention that the Chinese army decided to throw in a few convoys to make the ride that much more interesting (and dusty)? At about 6:30, I was somewhere between five and eight kilometers from the nearest village where there might be some shelter. The wind was getting stronger again and the light was fading. I figured it would be at least an hour more of riding if I was lucky and the wind didn't build too much, and more than that if I wasn't so lucky. Considering the kind of day it had already been, I didn't think it was worth it to push my luck, so I decided to try and hitch a lift. After a few unsuitable vehicles passed me by, I saw a pick-up truck coming up behind me. Waving them down, I watched them pull over in what seemed like slow motion to me. I guess I was that amazed at what was happening. They agreed to give me a ride, and refused any money for the lift to the village.
On arrival in Jiding Qu, I was pointed to a man who led me the short walk up to the other end of the village, took my bags inside a small Tibetan home and said they would bring the bike in later. There was some confusion about whether I could eat there or not, so I went back to the restaurant where I had originally stopped and managed to order some dinner. Nobody in Jiding Qu speaks English. After dinner, I returned to the Tibetan house/restaurant/truck stop crash pad, and watched TV with the family until it was time to turn in on the Tibetan couches/settees.
I slept pretty well until about 2 a.m. when a couple of truck drivers banged their way into the room and had the young daughters fix them some soup and tea before falling asleep on the other side of the room. After some sweet tea, I also fell asleep again until morning.
ROAD REPORT – Cycling Day 6
Distance: 58 kms (plus 5 km in a pick-up truck)
Ride time: 6:22 hours
Avg. speed: 8.5 kph
Max speed: 30 kph
Passes: none
Sleeping place: Tibetan Home/Truckstop Restaurant, Jiding Qu 3875m
Tibet Mileage: 670 km
Worldwide Mileage: 7656 km
Comment: Dust storms and brutal headwinds
October 23rd, 2004
Getting off around ten in the morning, still feeling a little sluggish, maybe due to so many days off the bike, the food poisoning, the previous day's headwinds, or accumulated sleep deficit, it seemed my pace was slow, so I decided to just take it easy and enjoy the day's ride at whatever pace it was going to be, going as far as I could.
Part of the route was a 'mostly' asphalt road, so that made things a bit easier. Generally, the day was an enjoyable ride. There wasn't a lot of wind, so I cycled along hearing just my tires revolving on the road, and the sound of my breath. My stopping places were quiet and even the shepards herding their sheep passed by far off in the distance. At about three in the afternoon, I stopped after traveling just 35 kms for a delicious meal of fried rice, egg, and vegetables at a roadside restaurant near road marker 4498. I was prepared to camp before Langpa La, so after eating I was identifying potential sites as I continued on my way. Then about 5:30 p.m., I was at the foot of the pass, and could see the top just 4 kms away and only another 230m above me. Deciding to go for it, 45 minutes later, I was at the top tying a scarf, taking pictures, and putting on some warmer clothes for the downhill ride. I would still camp if I had to, but there was supposed to be some accommodation at the turnoff to Sakya, just 15 km on. So down the mountain I flew, descending along a mostly well-packed dirt road, crossing a few streams, while the sky turned red with some rare evening clouds.
I still had some light arriving at Sakya junction, but not much. A man told me there was no place to sleep, but the Tibet Overland book said there was both a hotel and that accommodation was possible at the compound as well. I couldn't figure out where the hotel was – only seeing a small building set back from the road without much activity going on, so I opted for the Chinese Road Crew Compound. These buildings used to be the only building shelters for cyclists and other overlanders to stay in if they weren't traveling on jeep tours. I showed myself, and the Chinese military guy in charge decided to let me stay the night. There would be no charge for this courtesy. He called a manager/grounds keeper guy who opened up a vacant concrete room for me and handed me a candle. After my sleeping bag and mattress were set up for the evening, they came by for a look, offered me the chance to join them for some food, and then said good night. It turned out to be a nice quiet relaxing night, where I woke up to the sounds of birds singing in the bamboo trees outside my window. Quite pleasant in a strange kind of way.
ROAD REPORT – Cycling Day 7
Distance: 77 kms
Ride time: 6:09 hours
Avg. speed: 12.58 kph
Max speed: 30.9 kph
Passes: Langpa La 4450m
Sleeping place: Chinese Roadworks Compound, Sakya Bridge Junction 4040m
Tibet Mileage: 747 km
Worldwide Mileage: 7733 km
Comment: Sweet Day, Superb Downhill demanding some cautious riding
October 24th, 2004
Leaving the compound early(ish) at around 9 a.m., I had a relaxing ride to Lhatse, approx. 25 kms down the road. Along the way, I yelled at a few rogue kids, taught another group "Head and shoulders, knees and toes…", and stopped for tea at a military café. After checking out most of the hotels in Lhatse, I settled on the courtyard hotel called the Dewang hotel, located on the left just inside the town boundary. A big room for one person was just 40 yuan, but more importantly, they were the only hotel in town with a hot shower to wash off all that dust from a couple of days ago.

(Above photo of Sonia and Dave in the distance by Pierre Deslandes)
Just after I got my bags unpacked and did up a sign for Pierre and Sonia – who shows up? Sonia and Pierre of course. They decide to stay there as well and use the sign to alert their friend Chu that they are there. After lunch, it's shower hour. Then it's time to do some bike work. I've got some bolts to tighten as well as some cleaning, and Pierre has a tire to change. Then we're off picking up supplies for the upcoming mega pass. We meet Chu on the way back, and while the rest go for Chinese dinner, I eat some Tibetan food in the hotel while catching up on some writing and memory card downloads.
ROAD REPORT – Cycling Day 8
Distance: 27 kms
Ride time: 1:50 hours
Avg. speed: 14.2 kph
Max speed: 27 kph
Passes: none
Sleeping place: Dewang Hotel, Lhatse, 3990m
Tibet Mileage: 774 km
Worldwide Mileage: 7760 km
Comment: Short and Sweet, Easy Day
October 25th, 2004
It looks like this will be the first day since our trip to Ganden Monastery that I actually cycle along with Pierre and Sonia. Chu (from Singapore) is also coming along. There's been some discussion about how we tackle this next pass, Gyatso La at 5220m. It is an 1100m climb with a distance of 38 km to the peak. It seems that we will do it in two days, going halfway up on the first day, and then continuing on to the Mount Everest turnoff on the second day.
Leaving after lunch around 1:30, it's a relatively easy cycle, in fact, I don't even notice that we are climbing at all. Sonia had been quite sick the night before, so we are all taking it nice and slow. Cycling along the river, we look for some campsites, finally settling on one around the road marker 5069. We think it's the one that's mentioned in the guide. It's barely suitable and not that picturesque, but it will do. The night is cold and unfortunately, the truck traffic never completely stops.
ROAD REPORT – Cycling Day 9
Distance: 16 kms
Ride time: 2:05 hours
Avg. speed: 8.1 kph
Max speed: 16 kph
Passes: none
Sleeping place: Camping at road marker 5069, 4405m
Tibet Mileage: 790 km
Worldwide Mileage: 7776 km
Comment: Short, Easy Climb
October 26th, 2004
After the sun hits the valley around 10:00 a.m., we are off to tackle Gyatso La, our highest pass so far. The first part of the road, we have a bit of a tailwind, but soon enough it changes to icy headwinds. They're not that strong, but they are persistent. On reaching the top of Gyatso La, the winds are blowing quite strongly while there are a couple of jeeps and some Tibetans. Sonia chats with the jeep people. Pierre and I take some pictures including some of me tying prayer flags at the pass. Chu has fallen behind and does not appear to be in sight. We think he might have met up with another Chinese speaking cyclist that we heard was on the road just behind us. The cold wind is getting to me and I've decided that I really don't want to camp again tonight. That means I'll have to hustle to get to some accommodation. Sonia and Pierre plan to camp.
The descent is described as a "brake burner" in the guidebook. It is anything but that. I find myself pedaling into strong icy winds, stopping every ten kilometers or so to let my hands and feet thaw, checking the distance remaining, calculating my potential arrival time in Baipa or Shekar. It seems I should make it before dark, but just before. My water is running low and I resort to my quick energy snack – chocolate bars.
I get to Baipa around sunset. The first place I see is a rather dumpy, dirty dorm room – not what I hauled ass to sleep in tonight. I want a nice warm bed in a clean room, so I cycle up the nicely paved road to Shekar. The sky is turning purple behind the mountains as I arrive at a hotel 7 kms up the very fast road from Baipa. After some noodle soup, I'm tucked under two large comforters, sleeping soundly until daybreak.
ROAD REPORT – Cycling Day 10
Distance: 72.39 kms
Ride time: 6:20 hours
Avg. speed: 10.4 kph
Max speed: 34.7 kph
Passes: Gyatso La 5220m
Sleeping place: Hotel in Shekar, 4050m
Tibet Mileage: 862 km
Worldwide Mileage: 7848 km
Comment: Tailwind for first 5 km, then icy headwinds, followed by more icy headwinds. Prolonged gradual descent along bumpy roads that required a lot of pedaling. Not the "brake burner" descent mentioned in Tibet Overland.
October 27th, 2004
Shekar has a spectacular fort built up along a mountain ridge, and in the morning light, the view can transport you to another time. A time when horses were the only form of transportation, when Yaks were massive creatures roaming wildly through the land, and Khan was ruler of all the lands.
I leave Shekar around noon after cleaning my chain and dispensing of some unnecessary luggage, like the oxygen canister I've never used. I ride down to Baipa and have lunch before going to pick up my entrance ticket for Mount Everest Conservation area. It is going into the ticket office that I meet up again with Pierre and Sonia. The have yet to eat lunch and do some shopping, so after waiting a while, I end up setting off for Chay ahead of them. There's a Chinese checkpoint along the way that wants to see my passport, but doesn't bother with the travel permit. At Chay, there's a checkpoint for the Everest admission, and right next door is the home of a Tibetan who rents a backroom for cyclists and other overlanders. There's also another guesthouse in the village where an American trekker is staying for the night. Pierre and Sonia arrive a short time after I'm settled in and also decide to stay for the night. We cook our Chinese takeout from Baipa in the room before turning in.
ROAD REPORT – Cycling Day 11
Distance: 24.73 kms
Ride time: 2:00 hours
Avg. speed: 12.67 kph
Max speed: 39.2 kph
Passes: none
Sleeping place: guesthouse in Chay, 4260m
Tibet Mileage: 887 km
Worldwide Mileage: 7875 km
Comment: Easy day – some headwinds.
October 28th, 2004
Our day in Chay started off quite well, although neither Sonia nor I slept very well at the altitude. The new markers on the road to Everest Base Camp count down the kilometers from the main highway, starting at 101. Chay is at approximately 97, and so it is here that we begin our climb over Pang La via a continuous series of switchbacks.
One of the side benefits of these switchbacks, is that the headwinds become tailwinds as the road makes it's abrupt turns on the way up the mountain. Everything seemed to be going smoothly with very little traffic, until we were about half a kilometer from the top. Then the winds became so gusty and strong, that it was almost impossible to just stand and hang on to the bike without getting blown over, or worse, getting blown down the steep drop off. After putting on more warm clothing and realizing that the gale force winds would not abate, we ended up pushing up the last bit when there were slight eases in the strength of the wind. At the top of the pass, we endured the winds as long as possible while looking out at spectacular views of the Himalayan mountain range. There were some cross-country shortcuts on the downhill, so that allowed me to cut out some of the switchbacks. Unfortunately, some of those shortcuts brought me to the edge of a roadway that was either 4 meters above me or 4 meters below, but that just meant a bit more cross country riding. At one point, I wondered if I was still on the right road, because Sonia and Pierre were taking so long to pass me. It turned out that they had some bike problems caused by the rough road.
On arrival in Tashi Dzom, I found a pretty good guesthouse. The room was cold, but private, and there was a good restaurant with an English menu. My LP Tibetan phrasebook has turned out to be quite useless here, so English menus are a welcome addition. My pronunciation of Tibetan is so pathetic, a large number of Tibetan people are illiterate, or the local people I encounter speak and read Chinese as opposed to Tibetan. The food section in the LP phrasebook, usually the most important, is also laid out completely differently than most other LP phrasebooks, and unlike many other nationalities, Tibetan people don't repeat out loud the phrases that you show them in the book, so it makes the language that much harder to learn.
Pierre and Sonia arrived about an hour later with some bad news. Sonia had broken a key bolt on her seat – one that attached it to the seatpost. Apparently the vibrations from the road had caused it to snap, so Pierre and the hotel owner made plans to see if they could find something to solve the problem in the morning. Thankfully, there are tractors in much of Tibet, so there is sure to be something that can attach the seat. It would be impossible to ride without it.
The delay also allowed me to have a couple more helpings of fried potatoes and yak meat from the restaurant. This was some of the most delicious food I had sampled in all of Tibet, and my only disappointment is that I do not have the name of the guesthouse, only that it has a very long name like "Cheng Di Song Mo Guesthouse" and sits directly across from the junction where you turn to go to Everest.
ROAD REPORT – Cycling Day 12
Distance: 47.25 kms
Ride time: 5:18 hours
Avg. speed: 8.9 kph
Max speed: 24.1 kph
Passes: Pang La 5050m
Sleeping place: guesthouse Tashi Dzom, 4090m
Tibet Mileage: 934 km
Worldwide Mileage: 7922 km
Comment: Many switchbacks on ascent. Alternating headwinds and tailwinds. Extremely windy at the top of the pass. Road conditions pretty good.

October 29th, 2004
We had a bit of a late departure due to the seat being fixed, but the ride itself was nice, warm, and wind free. Sonia and Pierre had thought to go on past Cho Dzong, but turned back to the schoolhouse compound guesthouse after a couple of kilometers as the wind was picking up and making riding difficult. The American trekker had already checked in to one of the guestrooms in the schoolhouse compound. Trace, originally from Oregon, was taking a year off from being a PhD microbiology student at the university of Washington, and remarkably, because of our extremely easy pace on this road to Everest section, and the fact that he had cut out about thirty kilometers by walking cross-country, was following the same schedule as we were following by bicycle, but he was doing it on foot! If I couldn't explain, it would be quite disheartening!
This section of the road is extremely beautiful, with very few villages, and constant views of the Himalayan Mountain Range.
ROAD REPORT – Cycling Day 13
Distance: 24.9 kms
Ride time: 3:00 hours
Avg. speed: 7.32 kph
Max speed: 16 kph
Passes: none
Sleeping place: Schoolhouse guest room Cho Dzong, 4360m
Tibet Mileage: 959 km
Worldwide Mileage: 7947 km
Comment: Nice warm ride. Bumpy, bumpy road. One soaker on detour.
October 30th, 2004
We shot some cycling video today, and met Trace on the road, recruiting him as our cameraman for some shots of all of us going along together. It was a pleasant ride, although the road was non-stop bumpy with almost no sections where we could find a smooth line. I stopped a lot on the road today, taking time to enjoy the absolutely superb views of Everest and the Himalayas.
On arrival at Rongphu Monastery Guesthouse, a place that receives hundreds of tourists every week during the high season, I was surprised, that even for Tibet, it was so disorganized, so unhygienic, and so limited in it's services. The toilet was the most disgusting in all of Tibet, with a mound of frozen shit piled so high, it came up through the whole in the floor. It was difficult to figure out who you could talk to about getting a room – a room where the wash basins are still full of dirty water and spit and the floors still dirty. The restaurant didn't have a menu, but offered the following dishes: pancake, omelet, fried rice, and noodle soup. There was a shop, but it opened when the guy who ran it happened to show up for five minutes at a time.
I cleaned the basin with boiled water and a scouring brush, bought a few supplies including a candle from the shop, and had some food before crawling under three comforters in my icebox (a.k.a. my guestroom).
ROAD REPORT – Cycling Day 14
Distance: 21.24 kms
Ride time: 2:58 hours
Avg. speed: 7.22 kph
Max speed: 22.4 kph
Passes: none
Sleeping place: Rongphu (Rongbuk) Monastery Guesthouse, 4825m
Tibet Mileage: 980 km
Worldwide Mileage: 7968 km
Comment: Bumpy uphill ride at elevation. Fantastic Views – ALL the way!!!
October 31st, 2004
Today, was a brilliantly sunny day without too much wind, and a good opportunity to visit Everest Base Camp, just up the road from the monastery. On arrival, Pierre had already set up his tent, and Sonia had made arrangements to sleep in one of the heated tents that serves tea and soup. Some mountain goats were grazing at the edge of the camp and Pierre was complaining about all the litter. After some food, we headed off to the glacier. It is actually quite a hike from the base camp, and after a couple of hours, we were in view of the glacier, but still quite some distance away from the actual base. Sonia had already turned back, and soon I would as well. When you see Everest and the surrounding area, it looks quite mountainous, but up close, it's just loads and loads of rocks upon rocks, upon even more rocks that never seem to end. I can't even imagine climbing the north face of Everest. It looks dangerous and forbidding, which I guess is what attracts some people to attempt it. Gazing up at the north face summit, each afternoon, it seems to have its own ecosystem with clouds swirling and masses of snow sliding down and then billowing up into the sky. It's not somewhere that you would want to be in the wrong place at the wrong time. There are no rescue services, and no medical facilities on the Tibetan side. No wonder most summit attempts are made from the Nepal side of the mountain.
ROAD REPORT – Cycling Day 15 (day tripping)
Distance: 16.55 kms
Ride time: 1:23 hours
Avg. speed: 10.3 kph
Max speed: 27.2 kph
Passes: none
Sleeping place: Rongphu (Rongbuk) Monastery Guesthouse, 4825m
Tibet Mileage: 997 km
Worldwide Mileage: 7985 km
Comment: Easy ride, and then a 3-hour hike to and from Rongphu Glacier viewpoint.
November 1st, 2004
After another night in the Rongphu icebox, I decided to attempt the shortcut road to Old Tingri back on the Friendship Highway. The turnoff is about 20 kms from Everest Base Camp, and then it's supposed to be 54 kms to Old Tingri, but is more likely 54 kms to the highway, and then another 5 kms to the town. Another cyclist who had done the ride from Lhasa to Lhatse before grabbing a minibus to Everest, and then trekking to the advanced camp, had come down from the mountain with a couple who I would later discover were on a rather unique mission. Sebastian, as well as Sonia and Pierre, were also planning to ride to Old Tingri, but our departure times were all a bit different. Sebastian was off first, me second, and Sonia and Pierre a bit later in the day.
After turning off the main Everest base camp road, the road was at first quite smooth, then became nothing more than river rock, before being submerged below a river. On the other side, I followed the road straight along rather than turning, which turned out to be a wrong turn. Backtracking, I headed off in the right direction, up a different hill, alongside the other river, and into the winds. After about ten kilometers or so, I was pushing the bike, and decided to head back down the valley for some shelter, and try again in the morning when, hopefully, the winds would subside. I just had no energy in my legs – no power, and this was at elevation, so the oxygen content was around 52% of that at sea level. I ran into Sonia and Pierre on the way down and let them know what I was doing. They continued on for a bit before camping somewhere up the ridge for the night, while I found a spot further down the pass near the river.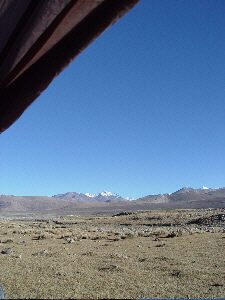 ROAD REPORT – Cycling Day 16
Distance: 21 kms (approx.)
Ride time: 3:00 hours (approx.)
Avg. speed: unknown kph
Max speed: unknown kph
Passes: unknown
Sleeping place: Campsite near entrance to Rongphu valley, 4500m (approx.)
Tibet Mileage: 1028 km
Worldwide Mileage: 8006 km
Comment: Icy headwinds, river and stream crossings. Attempted pass, but turned back due to icy headwinds. Found sheltered camping area approx. 5 kms back down the road.
November 2nd, 2004
I wouldn't say I had a restful night, but that was becoming quite common. Never the less it wasn't that uncomfortable waking up within the majestic Himalayan landscape. I was up and ready to go about an hour or so after the sun was shining down into the valley. Unfortunately, so were the winds. They were persistent, the road was not improving much, with several sections running underneath streams, covered in ice on steep sections, and simply rocks and more rocks covering the surface in many areas. It became a series of sections where I could ride, followed by pushing, followed by waiting for the winds to subside, followed by more pushing, more riding, fording streams, resting, more pushing, and then more riding.
After passing through a village, and through another river, I caught sight of Pierre and Sonia just ahead of me. I called out to them, but I'm sure the wind would have pushed the sound of my voice far behind me. I kept going for another half hour or forty-five minutes, but after another iced-over uphill section, my legs were without power, my lungs were struggling, and quite frankly, I wasn't having any fun. I had no idea of how far up the road went, how bad it was, or even any concept of how far along I'd come as some Tibetans had played with my computer a few days previous at Everest Base Camp, knocking it back out-of-order. I was still having some dysentery, suffering from lack of sleep, and it was time to call it a day. I decided to back track to the village and try and catch some kind of transport, at least back to the main Everest Base Camp road. Luckily, a jeep came along and gave me a ride to Rongphu, where I had a good chance of catching some kind of transport back to the main highway. Even more lucky, was that I ended up with three options for leaving. I could grab a truck down to Tashi Dzom where several trucks left for New Tingri, or I could wait a day and grab a jeep with either a London based couple heading for the border, or a Swiss couple and Korean guy, heading for Old Tingri, and then the border.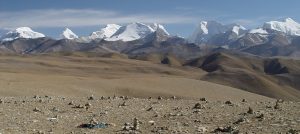 The next morning, I found out that the Swiss were leaving a day early, so in just a few hours, I could be on my way to Old Tingri. The driver and passengers agreed to take me, so by noon, we were bumping along the road to old Tingri – the same road I'd now been up and down several times. It wasn't a much better ride in the jeep, and I'm glad that considering the weather and my condition, that I had made the decision to seek transport. Torsten and Pia based in Switzerland, were great company, and I'm very grateful they let me join them in their jeep. I think they felt concerned that I was looking quite drawn and undernourished. Torsten is a doctor and Pia also works in healthcare. You could say I've had some angels along with me on this Tibetan plateau.
Part of me had hoped to go all the way to Katmandu, but I also wasn't originally planning on going to Everest or getting sick, so I swallowed my pride, and have called this the ride to Everest – enough of an achievement for me to be happy with. I know of dozens of cyclists that have never even able to get this far, even after making the journey all the way to Tibet, and I will always hold close to me the memories and moments of cycling serenity through this, one of the most majestic landscapes in our world.

ROAD REPORT – Cycling Day 17
Distance: 12 kms (approx.)
Ride time: 3:30 hours (approx.)
Avg. speed: unknown kph
Max speed: unknown kph
Passes: unknown
Sleeping place: Rongphu (Rongbuk) Monastery Guesthouse, 4825m
Tibet Mileage: 1040 km
Worldwide Mileage: 8018 km
Comment: Too windy to continue. More rivers, streams, iced over road on hilly sections, barely able to push bike. Turned back approx. 3 kms past village and caught an empty jeep to Rongphu Monastery for 100 yuan.